Moxie Members,

It's an honor to invite you to my personal residence for a casual holiday celebration!
I'd like to offer you and your family a gorgeous spread of thoughtful food & drinks and take our business relationships to the next level by gathering and reflecting on all the good we've done together.
Lean into those friendships that are blooming!
Has your partner been wondering what the heck you do at "moxie events"? This is your chance to bring them with! (co-ed party!)
Looking for volunteers for the Party Planning Committee!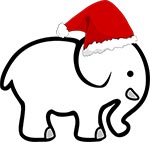 We're playing the white elephant gift exchange again this year! If you would like to participate, bring a wrapped unmarked present ($25 or less) and let the games begin!
Happy Holidays!
Dill